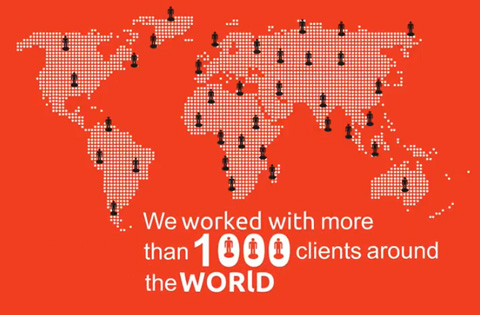 HOW DOES EXPLAINER VIDEO PROMOTE BUSINESS?
We all know what an explainer video is; it is a short animated video between 1 to 3 minutes. And it has become immensely popular over the past few years. It is used to introduce a project, website or product. This video is usually done in a cartoon style, and it may or may not have narrator. Let's state some very influential perks of this advanced tool.
1. Very informative and is a powerful method. These videos are pretty informative because they upgrade the viewer about the product/service. These videos illustrate briefly and to the point. It is objectivity based.
2. It saves time. The time a viewer spend on reading about the product, in half the time an explainer video can educate the view, it does save time and is more effective. So why not opt for an explainer video?
3. Reaching the audience. These kinds of videos reach a large audience. It can be sent to a lot of people at once and saves time and effort as it is easy to share. A larger number or a target is easily accessible.
4. One time cost. Explainer videos have a onetime cost and are cheaper in a long term view. There are no costs involved in repeatedly seeing these video or in repeatedly sharing it. Isn't it more efficient?
5. It can be humorous or conceptual. These videos can be humorous and can get popular because of the plot or concept; it can very well get viral and spread like a wild fire. The more creative; the more viewers.
6. Conversation rate. According to a survey, people are more convinced and tend to buy a product when they view and hear about it, in comparison to reading. These videos help in blooming the business because the conversation rate is comparatively high than any other method of promotions and advertisements.
7. Generates more interest. Wouldn't you have a clear image of a product/service if you see it's features? This is simply psychology, we tend to give more interest to something we see, over something we hear or read about
8. Better in Google search. We all know websites that contain endless text and images rank low in Google search which means less explored and reduced exposure! This also scares away customers who want to quickly understand a product, and purchase it right away.
9. Reflects your personality and creativity. Your videos reflect your thoughts, personality and are a huge platform for creativity. The customer will always relate to you and the product with how you introduce it. Let your work speak for you on your behalf, hence it can be made very convincingly.
10. Pitching. It always helps in pitching as it's a confident approach. It gets easier to represent the client and makes the pitching strong based.