); ga('send', 'pageview');
Experience The Moving Pixel
We're a team of curious people that share a passion for creating
digital experiences that generate greater results.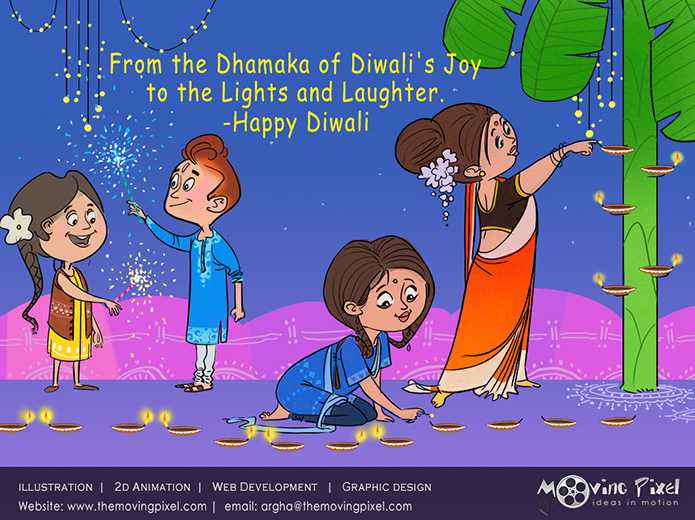 10 NEW THINGS YOU CAN DO THIS DIWALI.
A festival of lights. A festival of joy and a lot of laughter. But aren't there some things that we can do differently, this Diwali? Here are some simple 10 things you can do this Diwali.
1. Make rangoli with your neighbors.Every house has a beautiful rangoli on Diwali. With flowers or simply with colours. Why not try making one for your neighbor or with your neighbor.
2. Getting sweets for the security guard.It is common to get sweets for relatives and family, let's get sweets for people who work for us on holidays and festivals too.
3. Donate a blanketAnd we all know, it's always chilling cold after Diwali. So why not donate a warm blanket to them , who can't buy one for themselves?
4. No noise this Diwali.We all know how noisy Diwali can get let's promise ourselves lesser noisy Diwali. Let's make a change
5. Give a treat to stray dog and cats.Let's come together to give a few treats to some cute little animals. And by treat I mean a parle-G will be good enough. Spread the love
6. Quit foreign products this Diwali.Let's get completely Indian and do this Diwali without any cheap foreign goods.
7. Give diya to kids everywhere around you. One sweet gesture would be to give every child a diya. Be it anywhere, let us light up a life. .
8. Making sweets and snacks at home instead of buying.Buying snacks and sweets from saves time and hard work but this Diwali let all you family members come along while making food instead of buying.
9. DIY Rice Lights.Buy some rice lights and attach some easy and attractive things to it.
10. Singing Aarti together.Sometimes we feel awkward while singing along with our elders, let's surprise them this festive season!
Copyright © 2017 themovingpixel.com. All Rights Reserved.